We have been testing file attachment feature for quite some time now. Today, we are glad to annouce that this feature is out of beta testing and now available to our clients. Some of our customers are pretty excited to use this feature as it takes the interaction among users to the next level. Now, users can share photos, documents or any other similar files with others. Users can share file in one-to-one chat, group chat as well as in public rooms. And, it is available both for popup chat and embedded chat. Isn't that awesome? :D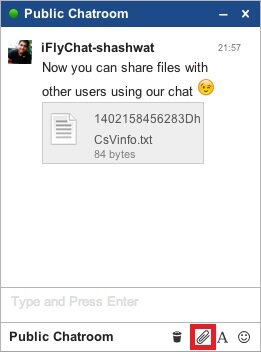 For the geeks, we are using Dropbox API to upload, store and retrieve the files. And as far as our experience goes, their system is solid and will ensure maximum and fast availability of the service. No compromise on that.
Do give it a try out and provide us with your feedback.
In coming blog post, we will write about the release of iFlyChat plugin for Joomla CMS. (Yes, finally!)