We are pleased to announce that now iFlyChat is available for WordPress. The process of porting iFlyChat from Drupal to WordPress was completed yesterday. iFlyChat plugin for WordPress contains all the features as in Drupal and should provide smoothless integration to your WordPress sites.
The iFlyChat plugin can be downloaded from the following URL: http://wordpress.org/extend/plugins/iflychat/.
You can install this plugin in your WordPress site in the following manner:
Download and activate the plugin

Generate API key from our website for your WordPress site

Paste this newly generated API key to iFlyChat plugin settings page available on your WordPress admin dashboard.
The detailed steps of installation, along with screenshots, is available at this URL: https://iflychat.com/installation-wordpress.
The iFlyChat Settings page in WordPress looks like this: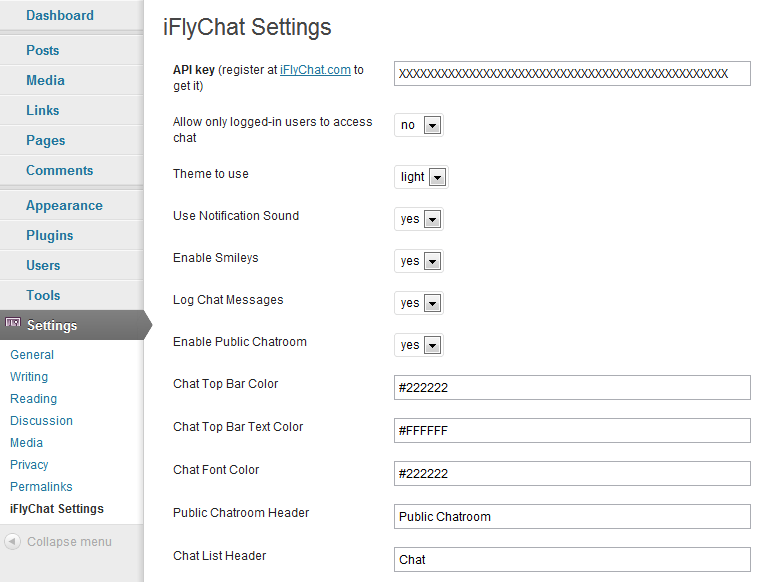 iFlyChat plugin comes with the following features:
It provides the option to chat privately( i.e. one to one) or you can chat with everyone in public chatroom.

Chat appears in the form of a sleek chat bar at bottom right of the browser.

It shows a selectable list of online users. Once you choose a particular user to chat with, it creates a new chat window adjacent to the chat list where you can starting chatting immediately.

It provides the ability to let anonymous users chat. Engaging unregistered users in chat provides a great opportunity to popularize your community.

It provides chat logging and message inbox functionality.

It supports smilieys - detects them automatically in chat messages.

Your chat history is retained in between page loads.

It alerts you via a notification sound when a new chat message is received.

It also notifies you by blinking browser title bar upon receiving a new message.
All these features are configurable and can be done so at iFlyChat settings page. Install this plugin now!