Olá.
We have been very excited to post this entry for quite some time. This is a new milestone for us.
Today, we are releasing our first major update since the day we launched alpha version.
Although, we have released some small updates since our initial release. In those updates, some bugs were fixed and functionalities were provided but this is huge. We are sure this update will not just add value to our customers but also help them FLY Higher. We are very excited! And, we had posted about it on Facebook and Twitter last week.
Now, without further ado, we will tell you the big news! We are releasing CSS Customization feature. This will enable websites to modify the look of our chat module on their website. They can modify it according to look and feel of their website. And, the best part is - "it requires NO Coding!". A web UI is provided to do the modifications and within some mouse clicks you are good to go. Web administrators just have to go to Configuration Page of DrupalChat and edit these settings. Websites can now change chat panel color, text color, chat list color, customize text of chat header and public chatroom. Screenshot below will show what all can be changed with which option: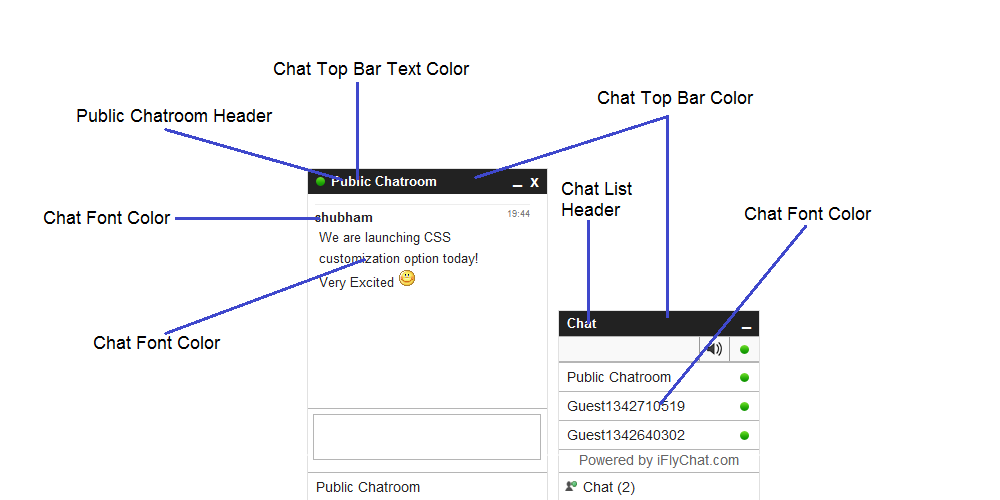 This feature was requested by lot of our existing customers and some are waiting for it to get released. Considering the high demand we assigned this feature the top most priority on our roadmap. (Yes, we have a Roadmap.) But, that is not the focus here, we will talk about it in one of our upcoming posts.
In addition to CSS, some administrative features have been added to provide more power to administrators to control the chat. These also, like CSS customization, can be accessed at Configuration Page of DrupalChat. These features are listed below:
1) Enable/Disable the Public Chatroom.
2) Enable/Disable the Smileys.
3) Enable/Disable the Notification Sound.
We will keep on releasing new features on regular intervals. Stay Tuned!
Have a good day!